Home >> About >> A Little About Our Cakes...
A cake needs to be more than just beautiful.
I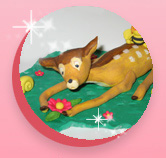 t needs to be delicious, and uniquely designed, so that is it the centerpiece of the desert table.
Here you will find that the cakes are not only centerpiece material, but also a conversation piece, as it incomparable in design and rich in taste.
There are several choices for a cake base: Chocolate cake, marble cake, Chocolate Chips, coconut cake or coconut cake with chocolate Chips.
Inside, the cake is filled with rich cream.
The whole cake is covered with sugar dough.
Finally the decorations is sculptured or drawn on to the cake to your dreams desires.
Please allow for a minimum of two weeks lead time when placing an order. This is so that I can give my best attention to your cake, and so that I can properly schedule and ensure there is no conflict.