Home >> Weddings/Bar-Bat Mitzvah's >> Bar/Bat Mitzvah
Celebrating Bar or Bat Mitzvah? First of all… MAZAL TOV!
This a very special age full of memories.
Here you will find a large selection of various unique party favors and cakes.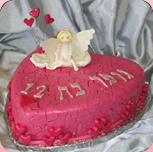 The Cake

The cake is the centerpiece of the event, and should be special…
Together we can come up with the most unique and special cake for your event.
Hand made sculpted figures, and/or any design you choose.
All left to your imagination.
(View Gallery)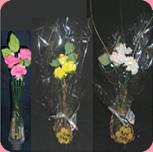 Table Centerpieces – Flowers

Customized special flower arrangement. Unique and differentiated from anything you have ever seen before, which you or your guests can take as a memorable souvenir. Each flower is made with close attention to detail, in any flower type and color. (View gallery)

Table Centerpieces – Plant cookies


This is one way you can give all your guests a personal souvenir of your event. Each plate "pot" includes ten; hand made designer cookies that can have personalized messages. These are not only beautiful, but also delicious, and come in any color or shape.
(View gallery)

Hand Made Personalized party favors

Personalized cookies, in multiple varieties and color, with personal messages, and individually packaged.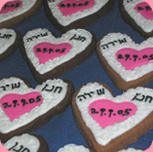 These can be your table arrangement indicators;
with each cookie reading your guests name and table number, and can be handed out as they enter the recital hall, or can be placed on the plate. They can also serve as special souvenirs for your guests.