Home >> About >> A Little About Our Cookies...
Vanilla Cookies, Chocolate Cookies, butter Cookies, cinnamon cookies etc.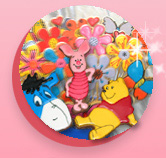 Colorful and wonderful, single plants on a stick, or wrapped.
Plant Cookies
Perfect gift for your guests; special for every occasion; whether it is for birthdays, weddings, or any other event.
Hearts, kisses, cherries, hamsaas
Holiday/Event Plant
Names, numbers, new baby arrival, children, adults, siblings etc.
Single Cookies
Designed for any event, for plate placement, or handed out when guests arrive. These can have names, table numbers, for seating arrangements. They can be given out as gifts, or party souvenirs.
You can also order cookies with company logo or photo printed.